Saturday, July 13th
Dolly and JP are the hosts this year!
Venue: 102, rue du Cimetičre, L-7313 Heisdorf, Luxembourg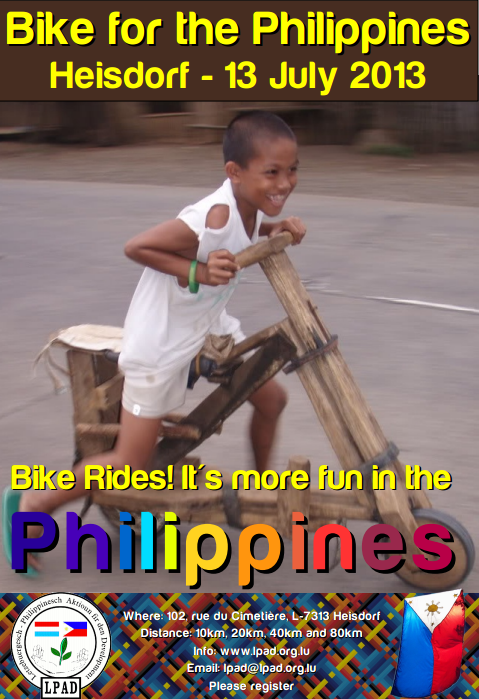 Download the Poster
This year again, LPAD is organizing a Sponsored Bike Ride:
Each rider arriving in Heisdorf in the afternoon is entitled to free Filippino food.
You can ride in a group or solo.
Each rider is to fill out the registration form (
available here
).
The rider's sponsors each fill out one box in the registration form.
Please fill out clearly and hand the form back to LPAD before the ride.
Please put cash donations in a clearly marked envolope.
There are several group tours:
(10km)
Will be led by Dolly.

(20 km)
Vinzenzo will be taking you on this ride.

(40 km)
JP will be in charge of taking the more ambitious ride.

(80 km)
Edward will take you on the old railway tracks to Colmar Berg, then to Noerdange, then almost to Ikea close to Arlon and return via Strassen and the Baambesch. Expect a pace of around 16-20km per hour, with stop overs this will take maybe 5 hours depending on the form of those who join. Departure will be at 10 am sharp. Be there well in advance.

Feel free to organize your own tour. Please note that if you ride on a different date or do not join one of the above tours, LPAD can't be repesonsible for any mishaps you could encounter if you we unfortunate.

Contact Edward Cardew on the LPAD email for more info.